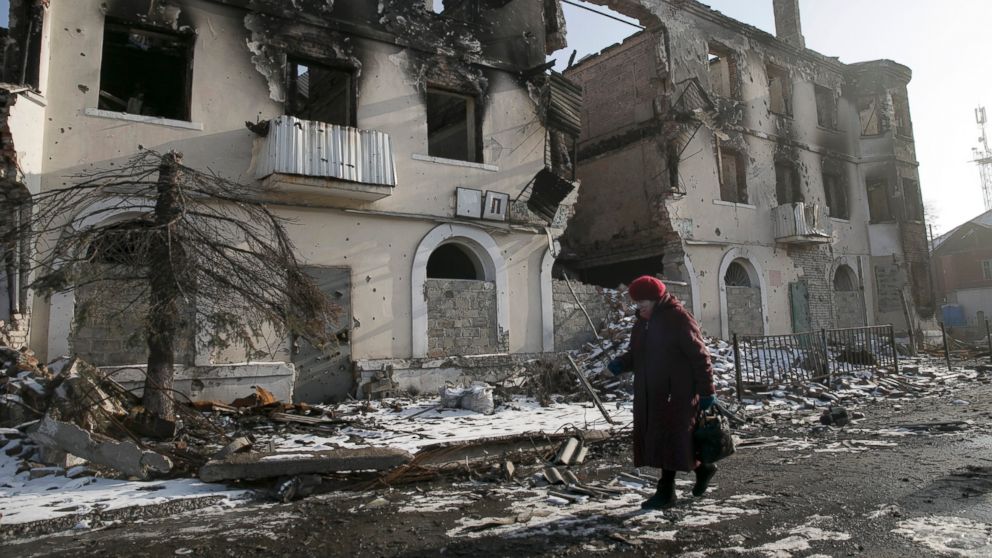 A local woman walks past a damaged building
This once-booming industrial city of 1 million is now largely a lawless and lifeless center of eastern Ukraine's separatist movement, where residents live under constant threat from marauding militias.
Although pro-Russian separatists and the Ukrainian armed forces agreed to a cease-fire last February, the sounds of artillery fire and shelling have never ceased to echo through the war-torn city. The fighting has slowed, but not stopped.
Pro-Russian separatists of the self-proclaimed Donetsk
People's Republic sit atop a self-propelled gun during the
Victory Day parade in Donetsk on May 9, 2015.
(Photo: Aleksey Filippov, AFP/Getty Images)
For the past year, Russian-backed separatists have controlled the self-proclaimed Donetsk People's Republic (DNR). Most stores have shut down, and only a few restaurants remain open, filled mainly with young separatist militia fighters in dark green fatigues who rampage through the city as if it were their own playground, civilian residents say.
A resident carries out belongings from an apartment
damaged recently by shelling in Donetsk
(Photo: Nikolai Gontar, EPA)
Olexandra Matviichuk, who heads the Center for Civil Liberties in Ukraine, said confrontations among varied militias are common at the expense of law and order. "No functioning legal mechanisms (exist) in these territories," Matviichuk said. As a result, "any person can become a victim of looting, torture, hostage-taking and execution."
CLICK MAP to ENLARGE
Off a main street in the city center as dusk starts to fall, two DNR policemen, Bogdan Kvetka and Ruslan Ivanov, agreed to sit down with USA TODAY in a small closed cafe to describe the lawlessness that has gripped their city. Because of their fear of retribution from fellow separatists, the café owner — a trusted friend of the men — locked the doors as the pair, still in military fatigues, nervously recounted what life is now like here.
USA Today sat down with two DNR policemen who
admitted they cannot implement law and order in
the city.(Photo: Abed al Qaisi, for USA TODAY)
Militia fighters, they explained, are able to carry out criminal acts with impunity. Fighters ignore the law, knowing they have the support of their own paramilitary group that can stir up trouble if one of its members is confronted. Both Kvetka and Ivanov said they are unable to enforce order.
Read the rest of the story
HERE
.
If you like what you see, please "Like" us on Facebook either
here
or
here
. Please follow us on Twitter
here
.