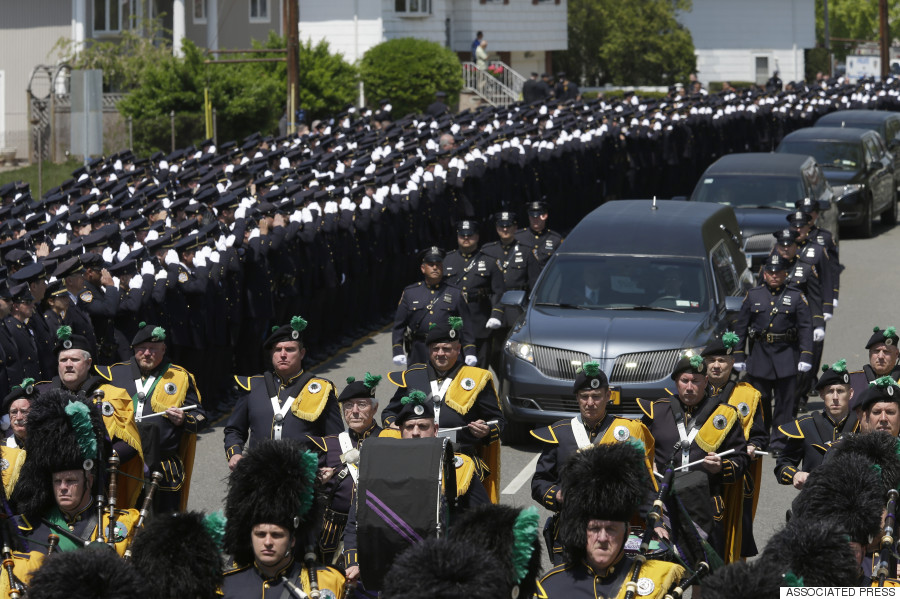 Police officers salute as the procession for Officer Brian
Moore passes after his funeral Mass
The number of police officers "feloniously killed" in the line of duty last year sharply jumped from 2013 but was still well below the annual average for the last 3 1/2 decades, the FBI said Monday.
The agency reported that 51 law enforcement officers were killed in 2014 in the line of duty — 89% more than the 27 officers killed in 2013.
CLICK CHART to ENLARGE
An average of 64 officers were killed each year from 1980 to 2014, the agency said.
The latest statistics come at a time when police training and actions have drawn national attention after the deaths of several officers, highlighting the dangers of police work.
NYPD Officer Brian Moore was 25 years old
New York residents mourned the death of Officer Brian Moore, who was slain in Queens this month. It was the third officer death in the last six months in the city.
Over the weekend, two officers were killed in Hattiesburg, Miss., after a routine traffic stop.
Read the rest of the story
HERE
.
If you like what you see, please "Like" us on Facebook either
here
or
here
. Please follow us on Twitter
here
.