Chinese authorities have ordered Muslim shopkeepers and restaurant owners in a village in its troubled Xinjiang region to sell alcohol and cigarettes, and promote them in "eye-catching displays," in an attempt to undermine Islam's hold on local residents, Radio Free Asia (RFA) reported. Establishments that failed to comply were threatened with closure and their owners with prosecution.
Uighur men praying in a mosque in Hotan, in China's
western Xinjiang region. (Greg Baker/AFP/Getty Images)
Facing widespread discontent over its repressive rule in the mainly Muslim province of Xinjiang, and mounting violence in the past two years, China has launched a series of "strike hard" campaigns to weaken the hold of Islam in the western region. Government employees and children have been barred from attending mosques or observing the Muslim fasting month of Ramadan. In many places, women have been barred from wearing face-covering veils, and men discouraged from growing long beards.
In the village of Aktash in southern Xinjiang, Communist Party official Adil Sulayman, told RFA that many local shopkeepers had stopped selling alcohol and cigarettes from 2012 "because they fear public scorn," while many locals had decided to abstain from drinking and smoking.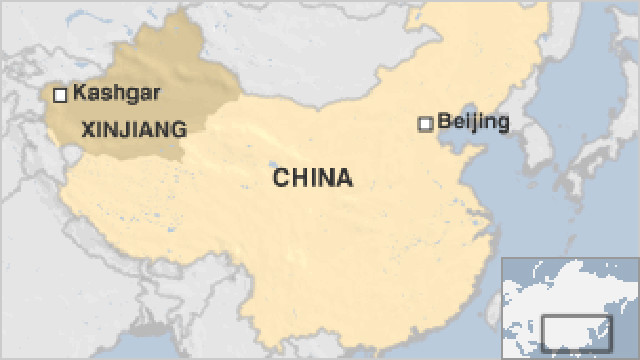 The Koran calls the use of "intoxicants" sinful, while some Muslim religious leaders have also forbidden smoking.
Paramilitary policeman standing guard in front of an
armored vehicle beside at the central square in Hotan,
in China's western Xinjiang region.
(Greg Baker/AFP/Getty Images)
Sulayman said authorities in Xinjiang viewed ethnic Uighurs who did not smoke as adhering to "a form of religious extremism." They issued the order to counter growing religious sentiment that was "affecting stability," he said.
"We have a campaign to weaken religion here, and this is part of that campaign," he told the Washington-based news service.
Read the rest of the story
HERE
.
If you like what you see, please "Like" us on Facebook either
here
or
here
. Please follow us on Twitter
here
.