A Russian Air Force Knights SU-27 jet flies during an
aerobatics display in Zhuhai, China, on Nov. 12. The
U.S. said the same type of jet intercepted a U.S.
reconnaissance aircraft in an unsafe manner
Tuesday. Photo: Bloomberg News
RC-135U aircraft was intercepted in international airspace by Russian SU-27, U.S. says
The U.S. will protest what it called the unsafe interception of a U.S. spy plane by a Russian fighter over the Baltic Sea last week, an incident American officials said Sunday was an example of increasingly aggressive air operations by Moscow.
The encounter, which took place on the morning of April 7 but was only publicly discussed by the U.S.in recent days, is the latest incident of escalating friction between Russia and members of the North Atlantic Treaty Organization.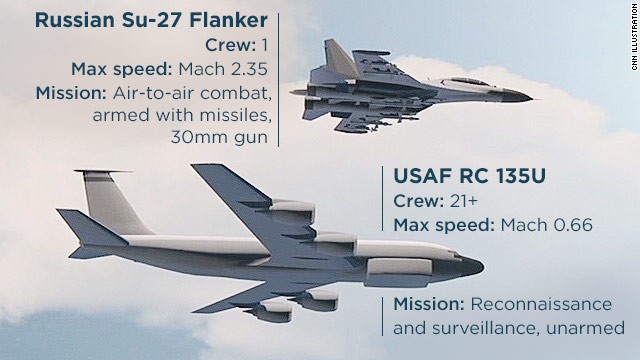 CLICK CHART to ENLARGE
This air interception, along with stepped-up NATO patrols and expanding Russian air-force flights, illustrates how tensions reminiscent of the Cold War are erupting between Western allies and Moscow.
"The nature of Russian air activity is expanding west into Europe and becoming more aggressive," Col. Steve Warren, the chief Pentagon spokesman said in a statement Sunday.
Last Tuesday, a U.S. RC-135U, a reconnaissance plane, was flying in international airspace over the Baltic Sea north of Poland, when it was intercepted in an unsafe manner by a Russian SU-27 fighter, U.S. officials said.
U.S. military officials said the Russian plane approached the American plane from behind at high speed. The Russian plane then passed in close proximity to the U.S. aircraft at least twice, U.S. officials said. Early reports suggested the Russian plane could have come as close as 20 feet, but officials said data from the incident is still being examined.
"Unprofessional air intercepts have the potential to cause harm to all aircrews involved," said Col. Warren.
"More importantly, the careless and unprofessional actions of a single pilot have the potential to escalate tensions between countries."
Russian officials denied their pilot did anything wrong. Maj. Gen. Igor Konashenkov of the Russian Defense Ministry said "there were no emergency situations" during the interception of the U.S. plane, the Interfax News agency reported.
Read the rest of the story
HERE
.