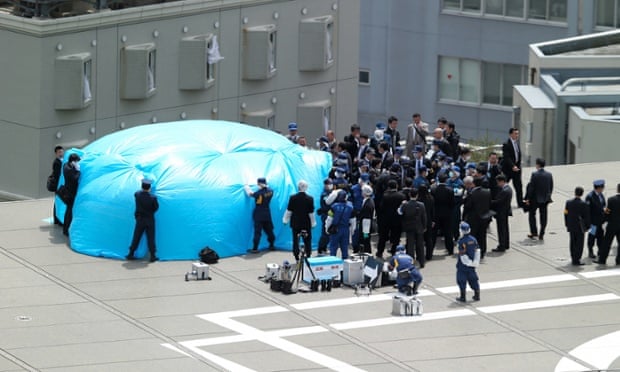 Investigators check a drone, under tarpaulin, on the roof
of the prime minister's office. The camera-equipped
drone produced a low level of radiation, police said.
Photograph: The Asahi Shimbun via Getty Images
Traces of radiation reportedly detected on drone carrying camera and bottle with unidentified contents
Japanese authorities have launched an investigation after a small drone reportedly containing traces of radiation was found on the roof of the prime minister's office, sparking concerns about drones and their possible use for terrorist attacks.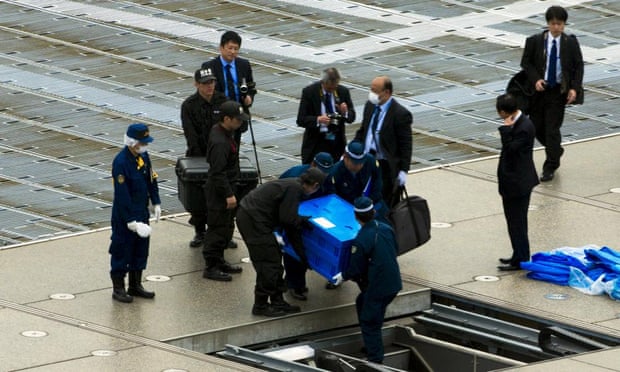 Officials carry a blue box reportedly containing a drone
from the rooftop of Shinzo Abe's offices in Tokyo.
Photograph: Thomas Peter/Reuters
No injuries or damage was reported from the incident on Wednesday. The prime minister, Shinzo Abe, who is at present in Indonesia, works at the building during the day and commutes from his own private home roughly 15 minutes away.
Police said it was not immediately known who was responsible for the drone.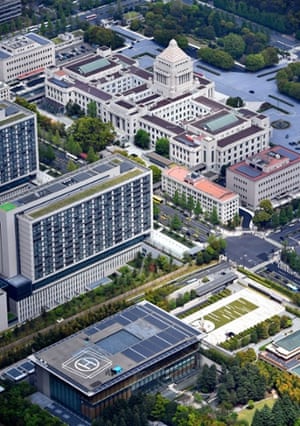 In this aerial image, investigators check the drone
under tarpaulin on the roof of the prime minister's
office (bottom), which is not far from the parliament
building (top).
Photograph: The Asahi Shimbun via Getty Images
The significance was not immediately clear, but a Japanese court on Wednesday approved the restart of a nuclear power station, rejecting nuclear power safety worries in the wake of the 2011 Fukushima radiation disaster.
The chief cabinet secretary, Yoshihide Suga, said the incident was a wakeup call to the potential dangers of drones, including possible terror attacks when Japan hosts the 2020 Olympic Games in Tokyo.
It was not clear when the drone landed. It was found on Wednesday by an official who was reportedly taking new employees on a tour of the prime minister's office in central Tokyo.
Read the rest of the story
HERE
.
If you like what you see, please "Like" us on Facebook either
here
or
here
. Please follow us on Twitter
here
.