Foreign Policy: By removing Cuba from the list of state sponsors of terrorism, President Obama is letting Castro get away with harboring and pampering anti-American terrorists on the FBI's Most Wanted Terrorists List.
Earlier this week, Obama removed Cuba from the State Department's blacklist — even though State documents Cuba's long history of sponsoring terrorists. And even though Havana shelters and refuses to turn over American fugitives.
Obama chose not to seek their extradition from Havana in exchange for his latest gift to the communist thug. One of the terrorists sits on the FBI's list — right alongside al-Qaida leader Ayman al-Zawahiri.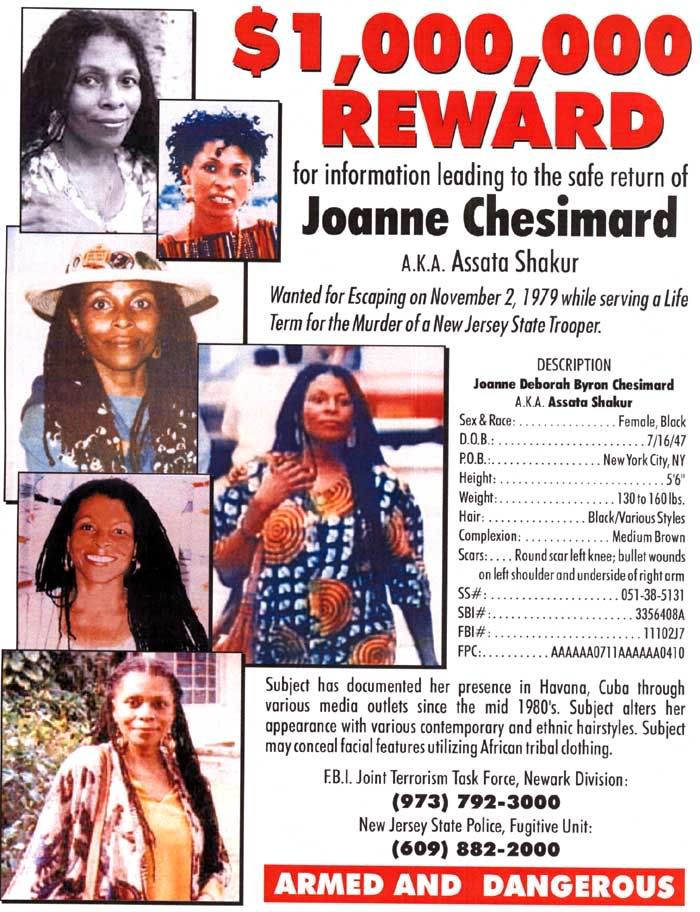 CLICK POSTER to ENLARGE
Joanne Deborah Chesimard, aka Assata Shakur, has a $1 million bounty on her after escaping from a New Jersey prison while serving a life sentence for murdering a state trooper and shooting another with two comrades.
"One trooper was wounded and the other was shot and killed execution-style at point-blank range," the FBI says, adding that Chesimard "is thought to currently still be living in Cuba." The White House claims Cuba "met the conditions for rescinding its designation as a state sponsor of terrorism."
Really? Tell that to the FBI or the families of the state troopers Chesimard gunned down.
Even State, in its latest report on state sponsors of terrorism, warns: "The Cuban government continued to harbor fugitives wanted in the United States (and) provided support such as housing, food rations, books and medical care for these individuals."
Read the rest of this IBD editorial
HERE
.