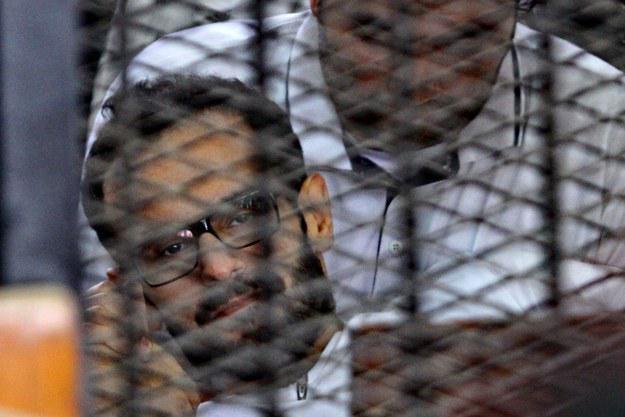 Mohamed Soltan in a caged holding area in the
Courtroom
Am I supposed to feel bad because one of these trouble makers is an American? I DON'T!
An Egyptian court on Saturday sentenced an American citizen, Mohamed Soltan, to life imprisonment for supporting an Islamist protest against the military ouster of President Mohamed Morsi of the Muslim Brotherhood in the summer of 2013.
Egyptian policemen guarded the defendants' cage in a
Cairo courtroom on Saturday at a verdict hearing for
nearly 40 people in an antigovernment protest case.
Credit Hassan Ammar/AP
The presiding judge, Mohammed Nagi Shehata, sentenced more than 35 other defendants in the case to the same penalty and also confirmed death sentences in the same case for about a dozen defendants, including the Muslim Brotherhood's top spiritual guide, Mohamed Badie, 71, as well as Mr. Soltan's father, Salah Soltan.
Gehad el-Haddad, a spokesman for the Muslim Brotherhood, was also sentenced to life in prison. Members of the Soltan family have said they will appeal the decision, and other defendants are expected to appeal as well.
Muslim Brotherhood's top spiritual guide, Mohamed Badie
The verdict is the latest in a long series of similarly harsh sentences handed down at mass trials of dozens or hundreds of defendants accused of participating in violent protests or riots in the aftermath of the military takeover, often based on only police testimony or cursory evidence. Thousands more remain imprisoned without convictions. The sweeping penalties have drawn outraged denunciations from rights groups and milder rebukes from Western diplomats.
Egyptian Judge Mohammed Nagi Shehata on Saturday
reads the verdicts in a case rooted in violence that
swept the country after the military-led ouster of
Islamist President Mohammed Morsi in 2013. AP
But the case of the younger Mr. Soltan, 27, is exceptional because he is an American citizen.
The verdict comes just days after President Obama released hundreds of millions of dollars in military aid for Egypt that had previously been suspended in response to the military takeover and subsequent repression.
Read the resr of the story
HERE
.
If you like what you see, please "Like" us on Facebook either
here
or
here
. Please follow us on Twitter
here
.