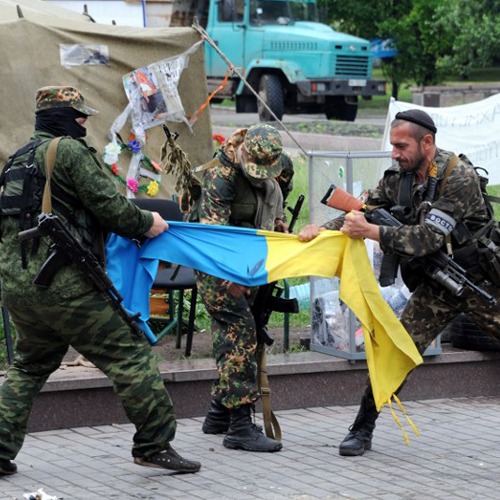 Pro-Russian asswipes destroying a Ukraine Flag
Ukrainian MPs have granted self-rule to parts of two eastern regions, and an amnesty to pro-Russian rebels there.
The law affecting Donetsk and Luhansk regions - which is in line with the 5 September ceasefire - was condemned by some MPs as "capitulation".
Meanwhile, Russia said it needed to boost troops in Crimea - Ukraine's peninsula annexed by Moscow in March.
The rebels in the east have been battling Ukrainian troops since their seizure of a number of towns in April.
President Poroshenko said the ratification of the
EU deal was a "historic day"
Ukraine and the West have accused Russia of backing the separatists with soldiers and heavy weapons. The Kremlin denies doing so.
At least 3,000 people have been killed in the conflict and more than 310,000 internally displaced in Ukraine, the UN says.
On Tuesday, the Ukrainian and European parliaments also voted to ratify a major EU-Ukraine association agreement that aims to bring the ex-Soviet republic closer to the EU.
'Ashamed'
Ukrainian President Petro Poroshenko stressed that the legislation giving the special status to parts of Donetsk and Luhansk regions for three-years would guarantee the "sovereignty, territorial integrity and independence" of Ukraine, while paving the way for decentralisation.
The amnesty affects the rebels, but does not cover the shooting down of the MH17 passenger plane in July.
Western leaders believe rebels shot down the Malaysia Airlines jet with a Russian missile - a charge the rebels and the Kremlin deny.
The fighting has devastated Ukraine's industrial
region in the east near Russia
The legislation means that pro-Russian separatists taken prisoner in the fighting should now be released.
Separatists holding government buildings are now supposed to leave them, hand over captured Ukrainian soldiers and other prisoners and surrender their weapons.
Rebels accused of other "grave" crimes will not be covered by the new amnesty either.
CLICK MAP to ENLARGE
But some Ukrainian lawmakers described the self-rule law as a sell-off of Ukraine in what they see as a war against Russia.
"A capitulation was announced today in this war," Oleh Tiagnybok, the leader of the nationalist Svoboda party, was quoted as saying by the Ukrainska Pravda website.
Andriy Shevchenko, an MP in the Batkivshchyna party led by former Prime Minister Yulia Tymoshenko, said he was "ashamed of this parliament".
Read the rest of the story
HERE
.
If you like what you see, please "Like" us on Facebook either
here
or
here
. Please follow us on Twitter
here
.