The American-led coalition fighting ISIS in Iraq grew by three on Friday — Belgium, Britain and Denmark. Prime Minster David Cameron of Britain won approval from Parliament after describing the militants as "psychopathic terrorists who want to kill us."
Through Friday, the coalition had carried out more than 200 strikes in Iraq and 43 in Syria, Defense Secretary Chuck Hagel told reporters. Here's a look at major countries that are providing or have committed military help to the coalition.
IN SYRIA
Saudi Arabia took part in at least two rounds of airstrikes and has agreed to hosting American training of the so-called moderate Syrian rebels, the key to the U.S. strategy for fighting ISIS in Syria.
The United Arab Emirates has carried out at least two rounds of airstrikes. Its mission on Tuesday, the first round, was led by the first woman fighter pilot in that country's history, Maj. Mariam Al Mansouri, flying an F-16 Desert Falcon.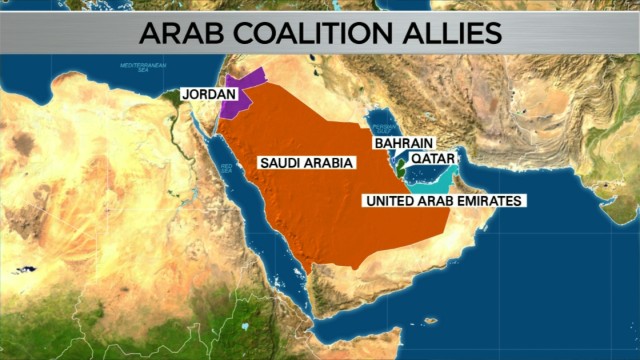 CLICK MAP to ENLARGE
Bahrain took part in the first round of airstrikes, late Monday U.S. time.
Jordan took part in the first round of airstrikes.
Qatar has played a supporting role in this week's strikes, according to the U.S. military. The emir warned this week that the fight in Syria will not succeed unless President Bashar Assad is removed from power.
Find out Who's doing what in Iraq, Who's still Talking, and read the rest of the stotu
HERE. Watch a
related video below: