The UK government has pledged £12m to help France tackle the problem of 'illegal immigrants' trying to enter Britain through Calais.
The deal, announced on Saturday by the home secretary, Theresa May, and France's minister of interior, Bernard Cazeneuve, will also see increased co-operation between the two countries' law enforcement agencies.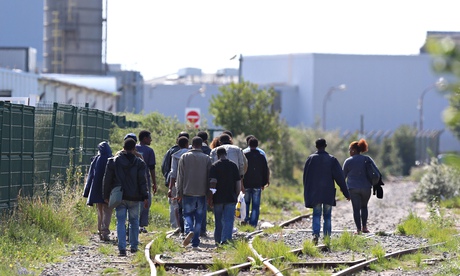 Group of migrants make their way through Calais.
Photograph: Gareth Fuller/PA Wire/Press Assoc
Contributions by the UK will be given in the form of €5m (£4m) a year for three years to a joint intervention fund. This money will be used to construct robust fences and to bolster security at the parking area of the port, which migrants use as a staging post for efforts to cross the Channel.
Plans also include the possibility of installing technology to address the dangers of migrants hiding in tankers and refrigerated lorries. Tensions have been growing in Calais in the past year and authorities have been vocal in asking for help with immigration in the port. The French authorities believe there are 1,500 illegal immigrants in the town, a rise of 50% on last year. Many have fled humanitarian crises in Africa and the Middle East.
Two weeks ago around 200 migrants stormed the ferry terminal and tried to board a P&O passenger ship in the hope of making it across the Channel. They were forced back by ferry crew with fire hoses. And last Wednesday, another 250 migrants clashed with police as they tried to force their way on to UK-bound trucks.
Read the rest of the story
HERE
and watch a related video below of ILLEGALS storming the Port of Calais::