Scott Brown's signature pickup truck is sputtering to gain traction in his new home state of New Hampshire, and he is turning to an old Massachusetts friend to get him out of the rut.
With a new Suffolk University/Boston Herald poll showing Brown trailing Democratic Sen. Jeanne Shaheen by 10 points in the Granite State, some GOP activists are worried about whether the former Massachusetts senator can catch up to an incumbent once considered among the most vulnerable in the nation.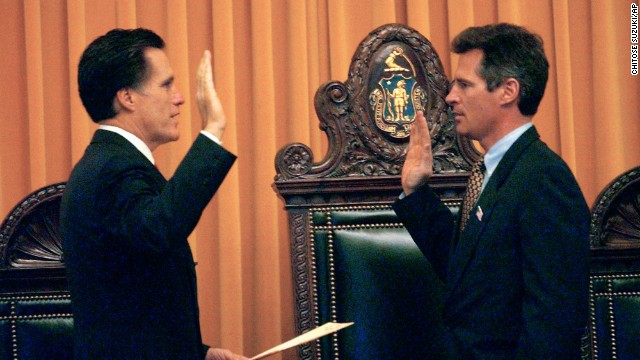 Then Gov. Mitt Romney swears in newly-elected
state Sen. Scott Brown in Boston in March 2004.
Shaheen leads Brown 49 percent to 39 percent in the Suffolk/Herald poll of 800 likely voters, and just 9 percent are undecided — an unusually low number this early in the race.
"Any time an incumbent is that close to 50 percent it's not good for the challenger," GOP consultant Rob Gray said.
But Gray cautioned the race is far from over, and the Herald has learned Brown will soon be getting a boost from former GOP presidential nominee Mitt Romney, who is enjoying a resurgence among voters in New Hampshire and other states.
"He'll be going to help him. It's in the works and it will happen," said Ron Kaufman, a key operative in Romney's political team. Romney might be on hand to join Brown in the ever-popular July 4th parade in Wolfeboro, where the Romney family has a vacation home.
Read the rest of the story
HERE
.