An 18-year-old Pakistani woman ''miraculously survived'' after being shot and thrown into a canal by her father for marrying against the family's wishes, police said Saturday, describing the latest in a series of such attacks on women in the Muslim-majority country.
The assault Wednesday came days after a 25-year-old woman was stoned to death by her family for marrying a man they did not approve of, one of hundreds of so-called ''honor killings'' carried out every year in Pakistan against women accused of bringing shame to their conservative families through sexual transgressions. (Link is mine)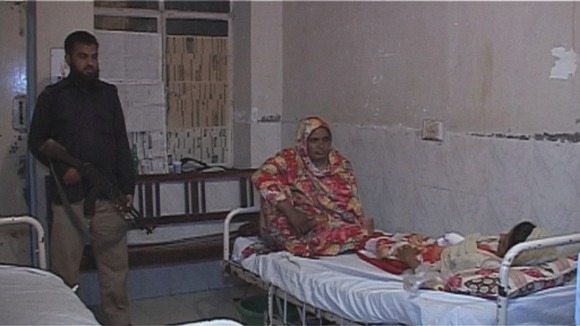 Maqsood's room in hospital is under police protection.
Credit: ITV News
Local police officer Ali Akbar said the teenager's father, with help from some of his close relatives, attacked her in Hafizabad, a city 120 miles southeast of the capital Islamabad.
[...]
The woman told police her two uncles looked on as her father shot her in the face, put her in a burlap sack, and threw her into a canal, Akbar said.
Read the full story
HERE
and view a related video below: