Ouch! The job market suddenly looks a lot weaker than economists' had thought.
Hiring slumped sharply in December, as the economy added only 74,000 jobs, according to the government. This was the weakest month for job growth since January 2011 and came as a huge surprise to economists, who were expecting an addition of 193,000 jobs.
For all of 2013, the economy added 2.2 million jobs -- on par with 2012's gains.
Some economists believe December's weak job gains could be a fluke, given other solid data recently. They expect the government to revise the numbers higher in the months ahead.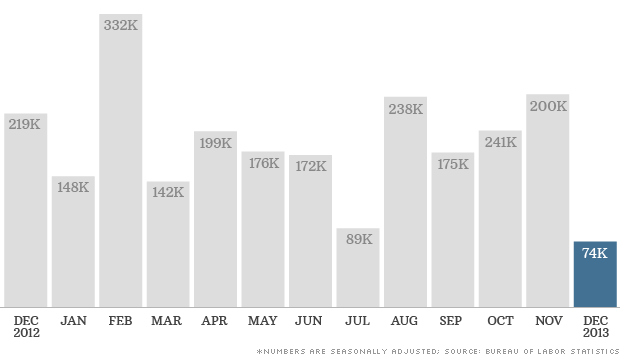 CLICK GRAPH to ENLARGE
"Just about every other measure of job growth suggests that employers are either hiring or intending to hire, extending hours and laying off fewer people," said Tim Hopper, chief economist for TIAA-CREF.
"Let's not panic," said Heidi Hartmann, president of the Institute for Women's Policy Research, adding that "it's not a horrible year, all things considered."
The government also noted that "unusually cold weather in parts of the country" could have had some impact on construction jobs for example. That sector lost 16,000 jobs in December.
CLICK GRAPH to ENLARGE
Meanwhile, the unemployment rate fell to 6.7% in December, but the drop came mainly from workers leaving the labor force.
Job market dropouts could be doing other things, like retiring, enrolling in educational programs or taking care of relatives. But many have simply given up hope of finding work.
Only 62.8% of the adult population is participating in the labor market now -- meaning they either have a job or are looking for one. That matches the lowest level since 1978.
Read the rest of the story
HERE
and view related videos below:
If you like what you see, please "Like" us on Facebook either
here
or
here
. Please follow us on Twitter
here
.