I made a post in an article asking why people think Mitt Romney is bought and paid for by Wall Street. I had one respondent who repeated that statement that both Obama and Romney have been bought and paid for. Yes, Wall Street members have donated to both campaigns. Probably a little more equally, maybe even more heavily to Romney than Obama. This is different than in the past when Wall Street heavily donates to the Democrats. Besides that, I was fired up. My response is listed out below (modified). It may come across as cheesy, and a little too heavy on the Romney-love, but it is what it is.
ROMNEY = RMONEY = (we get to keep) OUR MONEY
It's really an ignorant, non-thought out position to think Romney will be beholden to Wall Street, or any other single large entity donor. I'm not being insulting when I say that. Think about it. Mitt Romney is worth $250 million dollars. He declares about 14% in charitable donation on his tax returns. He doesn't report all of his donations, because why report it if it is of no benefit - in other words, at 14% he's maxed out his total available deductions. He donates a lot in private, possibly anonymously. And we know that he just hands money to total strangers (Bill Gates has a similar habit). He does not need money. He is not bought and paid for by Wall Street, by anybody. If anybody, it would be by the People.
If and when he becomes President, he will likely take no salary (or the minimum $1, whatever it is the law requires). He only took a dollar/year for salary as governor as required by law. He donated $1 million to the SLC Olympics and took no salary. He went back to Bain to save it from itself and took no salary. (Not in that order)
He doesn't need power. He easily had that in the private sector. When the SLC Olympics needed saving, they went to Mitt Romney. That's power. He easily won the gubernatorial race in MA... as a Republican. That's essentially unheard of and that's power. And he ran the state conservatively and fixed its $3 billion deficit and its sagging unemployment. That's power. He nearly broke the tradition of the GOP picking the Next-In-Line against McCain, using his own money. Harvard and others use Romney's private sector successes as case studies. That's power. If he wanted, he could wield power anywhere.
ALTRUISM: Altruism is a concern for the welfare of others. Altruism can be distinguished from feelings of duty and loyalty. Altruism is a motivation to provide something of value to a party who must be anyone but the self, while duty focuses on a moral obligation towards a specific individual (for example, a god, a king), or collective (for example, a government). Pure altruism consists of sacrificing something for someone other than the self (e.g. sacrificing time, energy or possessions) with no expectation of any compensation or benefits, either direct or indirect (for instance from recognition of the giving).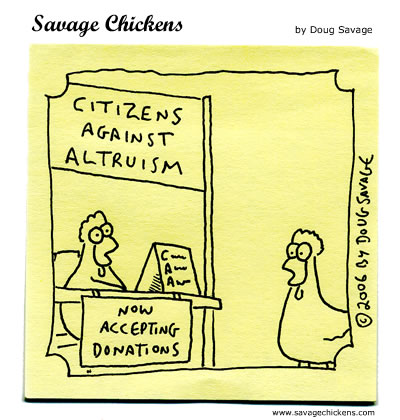 Many people do not understand true altruism or comprehend that anyone, especially the wealthy, can possess it. The world barely understood Mother Theresa, but she was not wealthy of herself. The world barely understood Mahatma Ghandi, though he may have been wealthy, lived a life of devotion in attempting peace through peace. Mitt Romney also displays altruism through his wealth and capacity. He wants us all to be wealthy.
Mitt Romney has stated he is doing this, running for President, to right America's course. He wants to make the place better for his children and grandchildren. He wants to make it better for all of us and he thinks he can succeed. And I have no doubt he can, because his record proves it. We're on pace to have $25 trillion in debt. No single person is going to fix that in 4 or 8 years (we've spent over 120 years building this debt), not even Romney. But he is the best person to get things moving in the right direction. He's done this before, he can do it again. Wouldn't it be great to vote in Mitt Romney as President; and, as a bonus, make it easier for a President Romney by electing a willing Representative Branch that will enact the tough decisions the budget needs to have to make the US a viable, AAA rated country? We can be that light on the hill, the standard for all nations, again.
Please check us out on Facebook and If you like what you see, please "Like" us. You can find us
here.