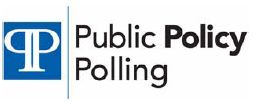 ......The tightening over the last week is much more a function of Romney gaining than Santorum falling. Santorum's favorability spread of 67/23 has seen no change since our last poll, and his share of the vote has dropped only 2 points from 39% to 37%. Romney meanwhile has seen his net favorability improve 10 points from +10 (49/39) to +20 (55/35) and his vote share go from 24% to 33%.

What we're seeing in Michigan is a very different story from Florida where Romney surged by effectively destroying his opponent's image- here Romney's gains have more to do with building himself up......
GOP Nomination: (Previous results from Feb 13)
Rick Santorum 37% (39%)
Mitt Romney 33% (
24%
)
Ron Paul 15% (12%)
Newt Gingrich 10% (11%)
Someone else/Undecided 6% (13%)
PPP surveyed 602 Republican primary between February 17th and 19th. The margin of error for the survey is +/-4.0%.
The full story is
HERE
.
The crosstabs can be viewed
HERE
.
Please check us out on Facebook and If you like what you see, please "Like" us. You can find us
here.