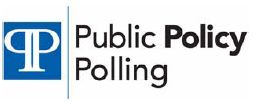 Mitt Romney's in a strong position to win this weekend in South
Carolina, and he's in an even stronger position to follow it up with a big win in Florida. Our first Sunshine State poll of 2012 finds Romney with a 15 point lead at 41% to Newt Gingrich's 26% with Rick Santorum at 11%, Ron Paul at 10%, Rick Perry at 4%, and Buddy Roemer at 1% rounding out the field.

Romney's lead expands further when you look only at voters whose minds are completely made up, to 48-27 over Gingrich. 71% of his voters say they'll definitely cast their ballot for him, compared to only 61% who say the same for Gingrich.
GOP Nomination: (Previous Results from Nov 30)

Mitt Romney

41%

(17%)

Newt Gingrich 26%

(

47%

)

Rick Santorum 11% (1%)

Ron Paul 10% (5%)

Rick Perry 4% (2%)

Buddy Roemer 1%

Not Sure 7% (7%)
PPP surveyed 572 likely Republican primary voters from January 14th to 16th. The margin of error for the survey is +/-4.1%.
The crosstabs can be viewed
HERE
.
Please check us out on Facebook and If you like what you see, please "Like" us. You can find us
here.