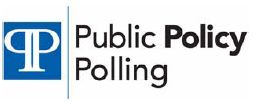 GOP Nomination:
Mitt Romney 30%
Newt Gingrich 23%
Rick Santorum 19%
Ron Paul 9%
Rick Perry 5%
Jon Huntsman 4%
Buddy Roemer 1%
Someone else/Not sure 9%
PPP surveyed 1,112 likely Republican primary voters from January 5th to 7th. The margin of error for the survey is +/-2.9%.
The crosstabs can be viewed
HERE
.
Please check us out on Facebook and If you like what you see, please "Like" us. You can find us
here.