UPDATE!

If you missed our live feed of the debate, I have the video for you HERE. Enjoy!


******************************************
Former Massachusetts Gov. Mitt Romney, former House Speaker Newt Gingrich, former Sen. Rick Santorum of Pennsylvania and Rep. Ron Paul of Texas accepted their invitations to participate in the CNN/Republican Party of Florida/Hispanic Leadership Network debate moderated by CNN's lead political anchor Wolf Blitzer.
The candidates will meet on stage at 8 p.m. EST in Jacksonville, Florida.
OPTION 1: LIVE FEED
I'm hoping to have an embedded live feed here by the start of the forum. What's been happening lately is that many of those supplying the feeds, are changing the codes at the last minute, making it more difficult to have the feed embedded in time. If the feed is not up by 7:55 PM EST, choose a feed from OPTION 2. THEN check back 5-10 minutes into the debate to see there is a live feed here.
NOTE:
This feed may be choppy, depending on your internet connection and/or computer. The audio will be fine, but the video may seem slow. If this is a problem, there are plenty of viewing options in OPTION 2: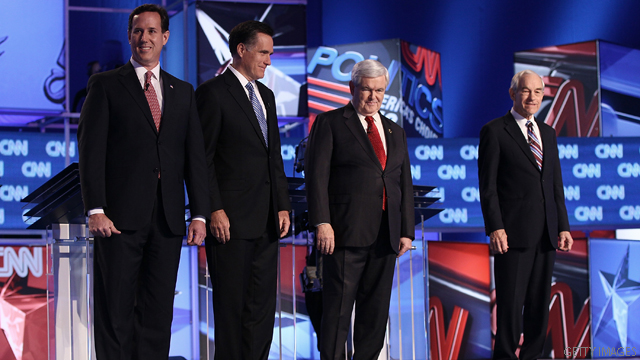 OPTION 2:
Press one of the feed buttons under the photo below. Hopefully one or more will work and stream the debate. A pop-up should open with the feed(s). You may need to choose the debate channel if it does not appear automatically, scroll down and/or across to view the debate in the pop-up window.
PLEASE NOTE: If prompted to ad software on any of these feeds, DO NOT!!
These are just advertisements and will disappear in 30 seconds. Also, try a few different feeds, because the quality may vary from one feed to the next. ENJOY!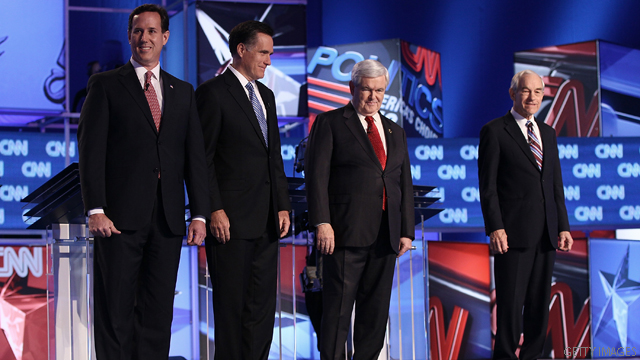 PRESS desired FEED BUTTON:
Please check us out on Facebook and If you like what you see, please "Like" us. You can find us
here.