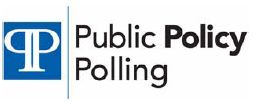 President Obama has declined in head-to-head matchups with leading Republican contenders Mitt Romney and Herman Cain since PPP last polled Ohio in August, yet they are the only two candidates who improve on John McCain's five-point loss in this crucial battleground. After leading 45-43 previously, Obama has fallen into a tie with Romney at 46%, and he leads Cain 48-45, down five points from 47-39. The president tops Ron Paul by eight points, 48-40, and he leads Rick Perry and Michele Bachmann each by nine points (50-41 and 49-40, respectively), an improvement of five points against Perry and two versus Bachmann. Newt Gingrich trails by 11, 51-40.

Despite conservatives' concerns about his views, Romney does the best job of uniting Republican voters, the chief reason he polls the best against the president. He is also one of three candidates to have double-digit leads among independents, but they are only 16% of the electorate, less than half Republicans' share. Another key factor is that Romney is one of four Republicans to pull double-digit percentages of the plurality Democrats (along with Cain, Paul, and Bachmann), while Obama earns only 4% (against Romney) to 10% (versus Paul, Gingrich, and Bachmann) of the GOP.
Head-To-Head:
(
results from August
)

Mitt Romney 46%
(43%)
( - )
Barack Obama 46%
(45%)
Barack Obama 48% (47%)
Herman Cain 45% (39%) (-3)
Barack Obama 48%
Ron Paul 40% (-8)
Barack Obama 49% (48%)
Michele Bachmann 40% (41%) (-9)
Barack Obama 50% (45%)
Rick Perry 41% (41%) (-9)
Barack Obama 51%
Newt Gingrich 40% (-11)

PPP surveyed 581 Ohio voters from October 13th to 16th. The margin of error for the
survey is +/-4.1%.
The crosstabs can be viewed
HERE
.
Please check us out on Facebook and If you like what you see, please "Like" us. You can find us
here.