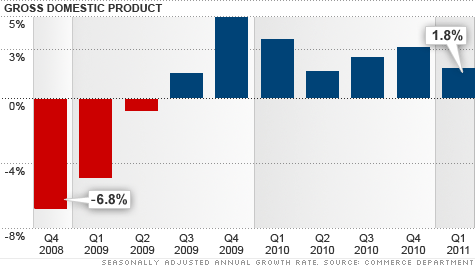 Click Image to enlarge
The Commerce Department reported weak GDP numbers today for the second Quarter:
U.S. economic growth remained disappointingly weak the first three months of the year, the government reported Thursday.

Gross domestic product, the broadest measure of the nation's economic health, grew at an annual rate of 1.8% in the first quarter, according to the Commerce Department. That is unchanged from the original reading released a month ago, and well below the 3.1% pace of economic growth in the final three months of 2010.
The full story is
Here
:
Mitt Romney Responds to the Commerce Departments
weak GDP Report
for the second quarter. From his
Website
:
In Recent Days, President Obama And His Team Have Insisted We Are Headed In The Right Direction On The Economy:

President Obama, On The Economy: "I Think The Trajectory Is A Good One."

OBAMA: "What people want to know is that we're moving in the right direction, even if they're frustrated with how fast we're moving, we need to speed it up, but I think the trajectory is a good one."

Treasury Secretary Geithner: America Is "Undeniably" In A Stronger Economic Position Today Than "Three Or Four Months" Ago. FOX's CHRIS WALLACE: "You think you're in a stronger position on the economy today than you were…" GEITHNER: "Oh, undeniably." WALLACE: "…three or four months ago when you were growing hundreds of thousands of jobs a month?" GEITHNER: "Absolutely … The economy is growing. American businesses are investing again. Exports are getting stronger. That is all going well."

Today's Dismal GDP Report Confirms That President Obama's Policies Aren't Working:

Growth Estimates For The Second Quarter Badly Underperformed Economists' Projections. "The U.S. economy grew less than forecast in the second quarter, after almost coming to a halt at the start of the year, as consumers retrenched. Gross domestic product rose at a 1.3 percent annual rate following a 0.4 percent gain in the prior quarter that was less than previously estimated, Commerce Department figures showed today in Washington. The median forecast of economists surveyed by Bloomberg News called for a 1.8 percent increase."


"Consumer Spending From April Through June Showed The Smallest Gain Since The Second Quarter Of 2009, When The Economy Was In Recession."

The Government Also Issued Major Downward Growth Revisions For The Previous Two Quarters, Suggesting A "Troubling And Fundamental Slowdown Might Be Underway." "The Commerce Department data on Friday also showed the current lull in the economy began earlier than had been thought, with the growth losing steam late last year. … First-quarter output was sharply revised down to a 0.4 percent pace from a 1.9 percent increase. … Fourth-quarter growth was revised to a 2.3 percent rate from 3.1 percent. … The sharp downward revisions to the prior quarters [suggests] a more troubling and fundamental slowdown might be underway."
GDP Estimates Were Not This Morning's Only Disappointing News:
A Key Index Of Consumer Confidence "Fell More Than Expected" In July, Reflecting Americans' Unease With The Economy. "Consumer sentiment fell more than expected in July, according to a report released Friday, depressed by higher gas prices and worries about the U.S. debt crisis. The Thomson Reuters/University of Michigan Surveys of Consumers' final July consumer sentiment index fell to 63.7 from 63.8 in the preliminary July reading, according to a report released on Friday. Economists in a Reuters survey had expected a final July sentiment reading of 64."
Read more
HERE
.
Please check us out on Facebook and If you like what you see, please "Like" us. You can find us
here.