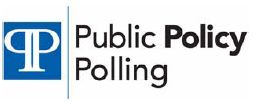 Donald Trump has had one of the quickest rises and falls in the history of Presidential politics. Last month we found him leading the Republican field with 26%. In the space of just four weeks he's dropped all the way down to 8%, putting him in a tie for fifth place with Ron Paul.



Mike Huckabee and Mitt Romney are at the top of the GOP race with 19% and 18% respectively. Newt Gingrich and Sarah Palin are further back at 13% and 12%, followed by Trump and Paul at 8%, Michele Bachmann at 7%, and Tim Pawlenty at 5%.....

.....Beyond the Trump angle the other thing particularly notable in these numbers is that they confirm Romney and Huckabee starting to pull away from Gingrich and Palin.
Favorable/Unfavorable/Not sure:
Mike Huckabee 59/22/19 (
+37
)
Sarah Palin 61/31/8 (+30)
Newt Gingrich 54/30/16 (+24)
Mitt Romney 52/29/19 (+23)
Donald Trump 34/53/12 (-19)
PPP surveyed 610 usual Republican primary voters nationwide from May 5th to 8th. The

margin of error for the survey is +/-4.0%.
The full story is
here
.
To view the crosstabs click the PPP icon below: