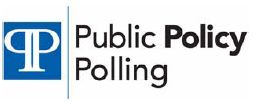 If Newt Gingrich is looking for a solid show of support for his Presidential bid he won't find it in his home state of Georgia. Just 39% of voters in the state have a favorable opinion of him, to 47% with a negative one. Only 31% think he should seek the White House next year, to 50% who say he shouldn't run. And if he somehow snagged the Republican nomination there's a very decent chance he wouldn't even win the state against Barack Obama in the general election- we find the race basically tied with Obama leading Gingrich by the slimmest of margins at 46/45....



....In addition to his lead over Gingrich Obama also has an advantage over Georgia's other home grown candidate, Herman Cain, at 44-39 and over Sarah Palin at 48-43. He trails both Mike Huckabee and Mitt Romney by three points at 48-45 and 46-43 respectively, but even those deficits represent an improvement from his 5 point loss in the state in 2008.
Favorable/Unfavorable/Not sure:
Mike Huckabee 48/33/19
(+15)
Mitt Romney 37/41/22 (-4)
Herman Cain 28/36/36 (-8)
Newt Gingrich 39/47/14 (-8)
Sarah Palin 35/56/9 (-21)
Head-to-Head: (Obama/Candidate/Undecided)

Mike Huckabee 45/48/7 (+3)
Mitt Romney 43/46/11 (+3)
Newt Gingrich 46/45/9 (-1)
Sarah Palin 48/43/9 (-5)
Herman Cain 44/39/16 (-5)
PPP surveyed 790 Georgia voters from March 31st to April 3rd. The survey's margin of

error is +/-3.5%. Other factors, such as refusal to be interviewed and weighting, may

introduce additional error that is more difficult to quantify.
Full Story
here
.
To view the crosstabs click the PPP icon below: