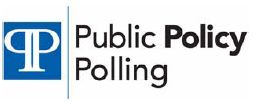 Obama's approval rating is actually a not that spectacular 53/41 spread. That +12 net is 16 points lower than his 28 point margin of victory in the state in 2008. If he had dropped that much nationally his approval rating would be a not so hot 45%, with 54% of voters disapproving of him. But if there's a state where he can withstand that kind of decline in his popularity it's Rhode Island.



His approval rating may only be a +12 spread in the state, but his polling leads over the top quartet of potential Republican Presidential candidates are a lot bigger than that. He's up 17 points on Mitt Romney at 54-37, 25 on Mike Huckabee at 56-31, 33 on Newt Gingrich at 60-27, and a whooping 41 points on Sarah Palin at 65-24. This is another one of Palin's 'Goldwater' states, where her performance would be the worst for a GOP Presidential candidate since 1964. She's not at much risk of actually matching the poorness of Goldwater's performance though- he lost by more than 60 points, garnering only 19% of the vote! That's probably the most interesting thing I found out in the course of polling the 2012 Presidential race in Rhode Island.
Favorable/Unfavorable/Not sure:
Mitt Romney 41/42/17
(-1)
Mike Huckabee 32/44/24 (-12)
Newt Gingrich 20/59/20 (-39)
Sarah Palin 24/69/7 (-45)
Head-to-Head: (Obama/Candidate/Undecided)
Mitt Romney 54/37/10 (-17)
Mike Huckabee 56/31/13 (-25)
Newt Gingrich 60/27/13 (-33)
Sarah Palin 65/24/11 (-41)
PPP surveyed 544 Rhode Island voters from February 16-22, 2011. The survey's margin of error is +/- 4.2%.
The full story is
here
.
To view the crosstabs click the PPP icon below: