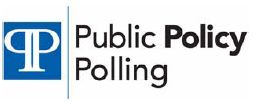 When PPP first polled the presidential race in Virginia last November,

shortly after President Obama's self-described "shellacking," he was at majority

approval, and led each of his potential Republican opponents by solid margins. Now

despite falling back to 48% approval, with 45% still disapproving, he has expanded his

leads against all four Republican frontrunners to between eight and 19 points in a state he

won by six in 2008.



Though he is less popular than Mike Huckabee personally, Mitt Romney now runs

closest to the president, trailing 48-42, versus Huckabee's 51-43 deficit. Further behind

are Newt Gingrich, 51-39, and Sarah Palin, 54-35. In the previous poll, Huckabee and

Romney both lagged by five, and the other two by 11 points.
Favorable/Unfavorable/Not sure:
Mike Huckabee 40/41/19
(-1)
Mitt Romney 33/48/18 (-15)
Newt Gingrich 29/56/16 (-27)
Sarah Palin 30/63/7 (-33)
Head-to-Head: (Obama/Candidate/Undecided)

Mitt Romney 48/42/10 (-6)
Mike Huckabee 51/43/6 (-8)
Newt Gingrich 51/39/10 (-12)
Sarah Palin 54/35/12 (-19)
PPP surveyed 524 Virginia voters from February 24th to 27th. The survey's margin of

error is +/-3.5%. Other factors, such as refusal to be interviewed and weighting, may

introduce additional error that is more difficult to quantify.
To view the crosstabs click the PPP icon below: