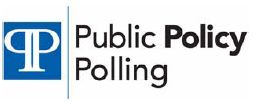 The presidential contest in the state is fairly close, with the top four in a statistical tie.

Mike Huckabee leads with 20% to Mitt Romney and Sarah Palin each at 16%, and Newt

Gingrich at 14%. Lagging are Ron Paul (8%), Mitch Daniels (7%), and Tim Pawlenty

and Haley Barbour (each 4%).
Favorable/Unfavorable/Not sure:
Mike Huckabee 69/20/12
(+49)
Mitt Romney 58/23/19 (+35)
Sarah Palin 63/29/7 (+34)
Newt Gingrich 54/29/17 (+25)
If the Republican candidates for President next year were Mitch Daniels, Newt Gingrich, Mike Huckabee, Sarah Palin, Ron Paul, Tim Pawlenty, and Mitt Romney who would you vote for?
Mike Huckabee 20
Mitt Romney 16
Sarah Palin 16
Newt Gingrich 14
Ron Paul 8
Mitch Daniels 7
Haley Barbour 4
Tim Pawlenty 4
Someone else/Undecided 11
PPP surveyed 400 usual Virginia Republican primary voters from February 24th to 27th.

The survey's margin of error is +/-4.9%. Other factors, such as refusal to be interviewed

and weighting, may introduce additional error that is more difficult to quantify.
To view the crosstabs click the PPP icon below: