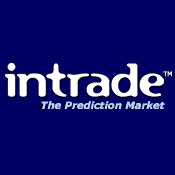 There are a lot of methods out there for predicting who will be the Republican nominee for President in 2012. What about those who put their money where there mouth is? Where do they stand?
Below are the top 10 candidates and there chance of wining the REPUBLICAN NOMINATION as of 03-13-2011:
(Click each candidate for up-to-the-minute changes)
Mitt Romney 25.5%
Tim Pawlenty
18%
Mitch Daniels
10.9%
Mike Huckabee
8.7%
Sarah Palin
6.1%
Newt Gingrich
5.6%
Jon Huntsman
4.2%
Michele Bachmann
4.2%
Haley Barbour
3.6%
Donald Trump
2.3%
The full list is
HERE
.