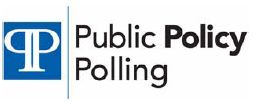 After George W. Bush very narrowly won the state in 2004, Barack

Obama took New Mexico back for the Democrats in 2008, beating John McCain by 15

points. In PPP's first look at next year's race for the White House, he is set to at least

match his performance there against any of five candidates tested against him.



New Mexicans approve of the president's job performance by a 55-40 margin, tying with

deep-blue Massachusetts for this third-best showing of any of the 40 states PPP has

polled in the last year, after Maryland and his native Hawaii. More Republicans are

unhappy with him than Democrats are happy, but Republicans are only 29% of voters,

and independents lean strongly Democratic here, giving him almost a 2:1 boost, 60-32.
Favorable/Unfavorable/Not sure:
Gary Johnson 44/32/24
(+12)
Mitt Romney 33/45/22 (-12)
Mike Huckabee 34/46/20 (-12)
Newt Gingrich 25/56/19 (-31)
Sarah Palin 31/64/5 (-33)
Head-to-Head: (Obama/Candidate/Undecided)
Gary Johnson 51/36/13 (-15)
Mike Huckabee 55/36/9 (-19)
Mitt Romney 53/37/11 (-16)
Newt Gingrich 56/35/9 (-21)
Sarah Palin 62/33/4 (-29)
PPP surveyed 545 New Mexico voters from February 4th to 6th. The survey's margin of

error is +/-4.2%. Other factors, such as refusal to be interviewed and weighting, may

introduce additional error that is more difficult to quantify.
To view the crosstabs click the PPP icon below: