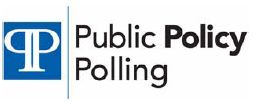 In the presidential race, Mitt Romney continues to show strength in the West and in bluestates. He leads California's primary contest nominally, but the top four are allstatistically tied. Romney has 22% over rare second-place finisher Newt Gingrich's 18%,Sarah Palin's 16%, and Mike Huckabee's 15%. 12% prefer an unnamed candidate or areundecided. Ron Paul has a somewhat unusually high 10%, with Tim Pawlenty (3%),Mitch Daniels (2%), and John Thune (1%) about where they usually are.

As in neighboring Arizona, Romney leads with both moderates and the supermajorityconservatives, and Palin is in second at 20% with conservatives, but has only 9% withmoderates. Saturday's release showed that while none of the candidates would have hopeagainst President Obama, fourth-place Huckabee would lag by the least, 15 points,followed by Romney's 20-point deficit.
Favorable/Unfavorable/Not sure:
Mike Huckabee 61/21/18
(+40)
Mitt Romney 59/22/20 (+37)
Sarah Palin 63/27/10 (+33)
Newt Gingrich 56/23/21 (+33)
If the Republican candidates for President next year were Mitch Daniels, Newt Gingrich, Mike Huckabee, Sarah Palin, Ron Paul, Tim Pawlenty, Mitt Romney, and John Thune who would you vote for?
Mitt Romney 22%
Newt Gingrich 18%
Sarah Palin 16%
Mike Huckabee 15%
Ron Paul 10%
Tim Pawlenty 3%
Mitch Daniels 2%
John Thune 1%
Someone else/Undecided
PPP surveyed 403 usual California Republican primary voters from January 28th to 30th. The survey's margin of error is +/-4.9%. Other factors, such as refusal to be interviewed and weighting, may introduce additional error that is more difficult to quantify.
To view the crosstabs click the PPP icon below: