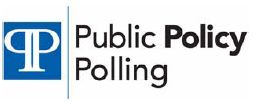 If there's one region where Mitt Romney seems to be the strongest of the Republican candidates it's the west. Our polling has consistently found him with a large lead in Nevada and he has the top spot in Arizona as well. 23% of Republicans say he'd be their top choice to take on Barack Obama next year to 19% for Mike Huckabee, 15% for Newt Gingrich and Sarah Palin, 5% for Ron Paul, 4% for Tim Pawlenty, 2% for Mitch Daniels, and 1% for John Thune.
Arizona is emblematic of one of the core problems for a prospective Palin candidacy- popularity does not equate to support for the Presidency. She has the highest favorability with primary voters at 66% to 62% for Romney and Huckabee, and 59% for Gingrich. But despite that she still finishes in a tie for third eight points behind Romney when it comes to who people actually support for the nomination.
Arizona is a rare state where not only is Romney ahead, but he's ahead with both conservatives and moderates rather than having a huge lead with moderates allow him to survive a poor standing with conservatives. Suffice it to say he'll need a lot more of those states that put him tops with conservatives because he's found himself in fourth place with those voters a lot more in our polling so far this year than first.
Favorable/Unfavorable/Not sure:
Mike Huckabee 62/20/17 (
+42
)
Sarah Palin 66/26/8 (+40)
Mitt Romney 62/22/16 (+40)
Newt Gingrich 59/22/19 (+37)
If the Republican candidates for President next year were Mitch Daniels, Newt Gingrich, Mike Huckabee, Sarah Palin, Ron Paul, Tim Pawlenty, Mitt Romney, and John Thune who would you vote for?
Mitt Romney 23%
Mike Huckabee 19%
Newt Gingrich 15%
Sarah Palin 15%
Ron Paul 5%
Tim Pawlenty 4%
Mitch Daniels 2%
John Thune 1%
Someone else/Undecided 16%
PPP surveyed 400 usual Arizona Republican primary voters from January 28th to 30th. The survey's margin of error is +/-4.9%. Other factors, such as refusal to be interviewed and weighting, may introduce additional error that is more difficult to quantify.
The full story is
here
.
To view the crosstabs click the PPP icon below: