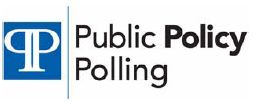 If the Republican nominee is someone other than Palin Obama would still have a better chance at winning the state than his party has had since the 90s, but he would start out at a disadvantage against either Mitt Romney or Mike Huckabee. Romney is the strongest of the Republicans, leading Obama by a 49-43 margin. That six point spread is closer than what the state saw in 2004 or 2008 and comparable to George W. Bush's margin of victory over Al Gore there in 2000, the last time the state was remotely competitive. Obama comes a little bit closer against Huckabee, trailing by a 48-44 spread.
Favorable/Unfavorable/Not sure:
Mike Huckabee 44/35/20 (+9)
Mitt Romney 44/38/18 (+6)
Newt Gingrich 34/48/18 (-14)
Sarah Palin 39/57/4 (
-18
)
Head-To-Head (Obama/Candidate/Undecided):
Mitt Romney 43/49/8 (+6)
Mike Huckabee 44/48/8 (+4)
Newt Gingrich 46/46/9 ( - )
Sarah Palin 49/41/10 (
-8
)
PPP surveyed 599 Arizona voters from January 28th to 30th. The survey's margin of error is +/-4.0%. Other factors, such as refusal to be interviewed and weighting, may introduce additional error that is more difficult to quantify.
Click the PPP icon below to view the crosstabs: