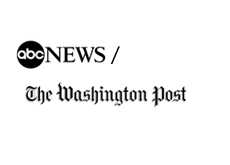 (ASKED OF LEANED REPUBLICANS) I'm going to read a list of possible candidates for the Republican nomination for president in 2012. After you hear the list, please tell me, if the 2012 Republican presidential primary or caucus in your state were being held today, for whom would you vote? Which candidate would you lean toward?
NET LEANED VOTE: (1/16/11) [7/18/09]
Mike Huckabee (21) [26]
Sarah Palin (19) [19]
Mitt Romney (17) [21]
Newt Gingrich (9) [10]
Chris Christie (8) [NA]
Rick Perry (3) [NA]
Mitch Daniels (2) [NA]
Tim Pawlenty (2) [4]
Mike Pence (2) [NA]
Haley Barbour (1) [1]
Jim DeMint (1) [NA]
Jon Huntsman (1) [NA]
Rick Santorum (1) [NA]
John Thune (*) [NA]
Other (vol.) (1) [2]
None of these (vol.) (6) [5]
Would not vote (vol.) (*) [1]
No opinion (6) [6]
This Washington Post-ABC News poll was conducted by telephone Jan. 13-16, 2011, among a random national sample of 1,053 adults including users of both conventional and cellular phones. Also included are additional interviews with randomly selected African Americans, for a total of 133 black respondents. These added interviews (commonly referred to as an "oversample") were completed to ensure there were enough respondents for separate analysis; the group is not over-represented in the reported results. The results from the full survey have a margin of sampling error of plus or minus 3.5 percentage points. Sampling, data collection and tabulation by TNS of Horsham, Pa.
Crosstabs can be found
HERE
.