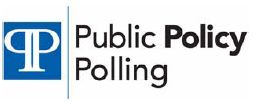 PPP has done some analysis of Sarah Palin's Favorability numbers and they're not good.
It's a well known fact that Sarah Palin is the most unpopular major political figure in the country...one thing that may be less well known is that one of the states where voters have the dimmest view of her is her own home state of Alaska.

We've polled Palin's favorability in ten states over the last couple months. In Alaska just 33% of voters have a favorable opinion of her to 58% with a negative one. The only place where fewer voters see her positively than her own home state is dark blue Massachusetts.
Click the the PPP icon below for more on this story: