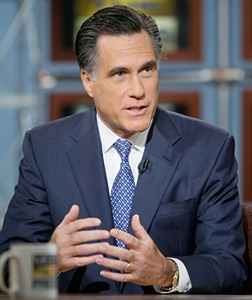 Death and taxes, it is said, are life's only two certainties. But in the wake of President Obama's tax compromise with congressional Republicans, only death retains the status of certainty: The future for taxes has been left up in the air. And uncertainty is not a friend of investment, growth and job creation.
The above was the opening of an
op-ed
penned by Mitt Romney in today's USA TODAY. In it Romney rejects the compromise bill pointing out the following:
The deal keeps current tax rates from rising to pre-Bush era levels for two years. But in 2013, unless Congress acts again, rates will increase dramatically
A temporary solution only creates uncertainty and keeps entrepreneurs and employers from expanding for the long term.
It will add to the deficit. The total package will cost nearly $1 trillion, resulting in substantial new borrowing at a time when we are already drowning in red ink.
Because ONLY employee's payroll tax is lowered and not the employers share, it fails to encourage what the American people want even more than lower taxes — more good jobs.
Extending unemployment benefits an additional 13 months, should not be used as an excuse to ignore the very real problems of our unemployment system. Jobless benefits need to be redone to accommodate a flexible economy like ours.
Mitt Romney goes into specific details for all my bullet points above. He ends with this:
President Obama has reason to celebrate. The deal delivers short-term economic stimulus, and it does so at the very time he wants it most, before the 2012 elections. But the long term health of our great engine of prosperity will remain very much in doubt. To the twin inevitabilities of death and taxes, we may now have to add persistent high unemployment.
For the specifics of Romneys objections and to read the op-ed, go
HERE
.