Karl 'The Architect" Rove had an
op-ed
in today's Wall Street Journal titled,
Don't Get Cocky, GOP
.
In the article, Rove points out the difficulty in unseating a sitting President who decides to seek a second term. He points out that Since World War II, three have been defeated for re-election and two decided not to run again. But five had sought and won second terms.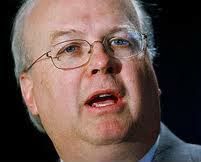 He offers the following advise and predicts that whoever wins the GOP nomination in 2012, will be the candidate that does the better of the following 3 tasks:
1. Create a compelling narrative for why Mr. Obama deserves to be replaced, why voters should pick him or her as the replacement, and where he or she seeks to lead the country.
Demonstrate the strength, values, decision-making capacity and leadership to take on the responsibilities of the world's most powerful and important job. Voters need to be able to visualize someone in the Oval Office before they will give them their support.
Finally, the candidate who ultimately wins the nomination is likely to be the one who shows the greatest ability to unite the party and draw others into the GOP fold.
I thought it might be interesting to have our readers comment on where you feel your favorite or least favorite candidate STACKS UP in his/her ability to best Rove's 3 suggestions. Giving examples in their pasts that could indicate the ability and skills of achieving these goals.